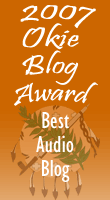 <---Lookie what I got!
Thank you, thank you to everyone who voted for me! I also got the Runner-Up nod for
Best Humor Blog
, but
Redneck Diva
(a personal favorite of mine!)(see what good blog taste I have?) won instead--CONGRATS KRISTEN!
**note to self: find someone to...
disappear
...Redneck Diva before next year's competition
I also want to say a special CONGRATS to another personal favorite: Brian from
Audience Of One
won the award for Best Writing--it's well deserved.
CONGRATS to all the other winners...you can find the complete list
right here
. And HUGE thanks to Mike at
OkieDoke
for going to the trouble of making sure we Okie Bloggers have a chance to get together and have some fun, as well as coordinating the awards. Our little blogging community here is growing and growing!
The Okie Blogger Round-Up happened last night in T-Town; I was sad that I was unable to make it so I didn't get to spend time with some of my favorite people. I hear that it was a pretty fun time--now people, I expect to see some pictures! Preferably the kind a person could use for...well,
blackmail
is such an ugly word...