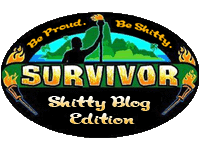 Just
Utopia
and me on the Island now, goin' head to head.
The next few days will be devoted to completing the
Final Task...
It's a scavenger hunt.
And I say...they have no idea who they're dealing with here.
***
SEE THE COMPLETE LIST
.
If you're going to gasp in shock or say "
OH MONTY! How COULD you!
", or in any way try to make me feel embarrassed or ashamed, then please do NOT look at the pictures.
It
is
the
Shitty Blogs Club
, after all, so it is only natural that there be some...shit...involved.
And I want to win.
Which is stupid really, because there isn't any prize...but I never claimed to be the bright one.
GO ME! I WANT TO WIN!
(you didn't know I had such a competitive streak, did you?)
I have my first batch of pictures ready to go for tomorrow...I thought I'd get some of the easy stuff out of the way first~things I already have in my house or things in the next-door neighbors' yards.
Stay tuned....